Management
Huey Yu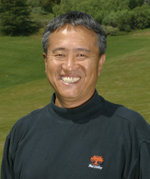 Mr. Huey-Min Yu was born in Haikou, China in 1949 and was raised in Taiwan. Mr. Yu obtained his bachelor's degree in Business Administration at Texas A&M University, and graduated with a Master of Science in Accountancy at the University of Houston. He began his professional career as a Certified Public Accountant in 1980, and he has been an entrepreneur in the real estate, golf, and hotel industries for more than twenty years.
In 1997, Mr. Yu purchased Oak Valley Golf Club and established the Oak Valley Golf Academy shortly thereafter. He has always had a passionate vision of helping ethnic minorities so that they can compete in professional golf tournaments. He set up golf training programs, scholarship programs, and sponsorship programs to attract various outstanding golfers in Asia. Notable Chinese lady golfers such as Hong-mei Yang, Li-ying Ye, Wei Li, Tao-li Yang, and Xiao-long Zhong have attended Oak Valley Golf Academy's training programs. Ms. Hong-mei Yang is the first lady golf player from mainland China to ever win a professional golf tournament in the United States (2004 IOS Future Golf Classic). Ms. Hong-mei Yang, along with Ms. Li-Ying Ye, were also the first lady players from mainland China to compete in the U.S. Women's Open.
Mr. Yu also dedicates time to developing junior golf training programs. Oak Valley is currently working with the AJGA and SCPGA on junior tournaments. Oak Valley Golf Academy provides junior golfers with unique learning opportunities and access to facilities so that they can pursue their ambitions in the realms of both golf and academia, and is open to golfers of all ages and levels of experience. Oak Valley Golf Academy is your stepping-stone to success.
和日本、韩国相比,中国的高尔夫起步较晚,但我们始终相信,以中国人的心智及条件,足以成就另一个高尔夫大国。但实现这一理想,需要更多有志之士的共同努力。我希望把美国的高尔夫教育制度来到国内来,希望有更多的华人球员进入到这个制度中来,借助美国成熟的高尔夫体制下成长起来,并且脱颖而出,成长为新一代高尔夫世界的中坚力量,奠定中华民族在世界高坛的地位。橡树谷很高兴此前有机会与国内多位有潜质的球手合作。协助中国球手进军世界,是我们现在一直在做、将来也不会改变的志向。我真的希望在不久的将来,最顶级的职业赛场可以活跃着数位华人球员。